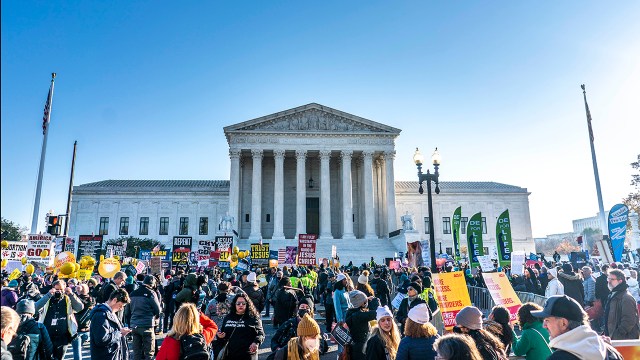 Protest at the U.S. Supreme Court 2022

Must Christians Oppose Abortio
ns?
Most professional
philosophers
do not find abortion morally problematic. Still, many Christians believe they must oppose abortion on religious grounds. But must they? Does such opposition really derive from Christian Scripture or church tradition?
Religious scriptures are problematic for multiple reasons. Typically they survived as oral traditions before being written down, have been translated multiple times, and are open to multiple interpretations. If you think that stories remained unchanged as they are handed down over time, that translations are precise, or that interpretation is straightforward, then you are mistaken. Moreover, Christian scripture doesn't discuss most contemporary moral issues. For example, consider the Bible's silence about moral issues surrounding topics such as genetic engineering, artificial intelligence, robotics, climate change, and more.
Furthermore, the issue of abortion doesn't arise in the Christian scriptures except tangentially. There are a few Biblical passages quoted by conservatives to support the anti-abortion position, the most well-known is in Jeremiah: "Before I formed you in the womb I knew you, and before you were born I consecrated you." But, as anyone who has examined this passage knows, the sanctity of fetal life isn't being discussed here. Rather, Jeremiah is asserting his authority as a prophet.
Many other Biblical passages point to the more liberal view of abortion. Three times in the Bible (Genesis 38:24; Leviticus 21:9; Deuteronomy 22:20–21) the death penalty is recommended for women who have sex out-of-wedlock, even though killing the women would kill their fetuses. In Exodus 21 God prescribes death as the penalty for murder, whereas the penalty for causing a woman to miscarry is only a fine. In the Old Testament, the fetus doesn't seem to have personhood status, and the New Testament says nothing about abortion at all. There simply isn't a strong scriptural tradition in Christianity against abortion.
And Church tradition is ambiguous concerning abortion as the history of the Catholic view shows. In the 13th century, the philosopher St. Thomas Aquinas argued that the soul enters the body when the zygote has a human shape. This position was officially accepted by the church at the Council of Vienne in 1312. Given what we now know about fetal development---that embryos start out as a cluster of cells and human form comes later---if the Catholic Church's position remained consistent with the views of Aquinas, they should say that the soul doesn't enter the zygote for at least a few months after conception. However, other Christian theologians would later argue that the soul enters the body a few days after conception, although we don't exactly know why they believed this. (Note that there really is no moment of conception---it is about a 48-hour process.) Put simply, Church tradition doesn't speak unequivocally about when souls enter newly fertilized eggs.
So the anti-abortion position doesn't clearly follow from either Christian scripture or church tradition. Instead, people already have moral views, and they then look to their religion for support. In other words, moral convictions aren't usually derived from scripture or church tradition so much as superimposed on them. (For example, American Christians used the Bible to both support and oppose slavery.) But even if the pro-life position did follow from a religious tradition, that would only be relevant for religious believers. For the rest of us, and for many religious believers too, the best way to adjudicate our disputes without resorting to violence is to conscientiously examine the arguments for and against moral propositions by shining the light of reason upon them. Having done this the majority of ethicists have concluded that abortion isn't generally morally problematic.
It also clearly follows that religious believers have no right to impose their views upon the rest of us. In a morally pluralistic society, informed by the ethos of the Enlightenment, we should reject theocracy. We ought to allow people to follow their conscience in moral matters—you can drink alcohol—as long as others aren't harmed—you shouldn't drink and drive. In the philosophy of law, this is known as the harm principle. Now if rational argumentation did support the view that a zygote is a full person, then we might have reason to outlaw abortion, inasmuch as abortion would harm another person. (I say might because the fact that something is a person doesn't necessarily imply that's it wrong to kill it, as defenders of war, self-defense, and capital punishment claim.)
But for now, the received view among ethicists is that the pro-life arguments fail, primarily because the fetus satisfies few if any of the necessary and sufficient conditions for personhood. The impartial view, backed by contemporary biology and philosophical argumentation, is that a zygote is a potential person. That doesn't mean it has no moral significance, but it does mean that it has less significance than an actual person. An acorn may become an oak tree, but an oak tree it is not. You may believe that your God puts souls into newly fertilized eggs, thereby granting them full personhood, but that is a religious belief that isn't grounded in science or philosophical ethics. It also isn't grounded unequivocally in Christian scripture or Church tradition.